Pregnancy Chiropractic at Bright Futures Family Chiropractic
A Better Birth for Baby and Mom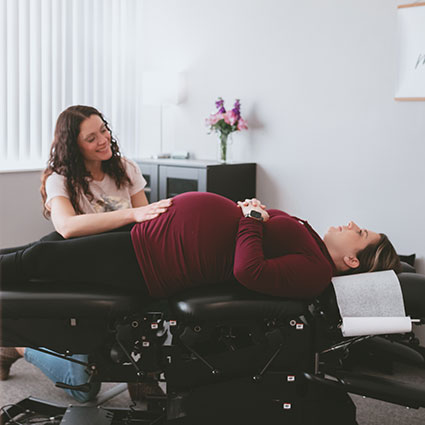 Dr. Stephanie Spiers, who is certified by the International Chiropractic Pediatric Association (ICPA), wants every mom and baby to have the best possible birth experience. She is the only chiropractor in Blue Ash and the Cincinnati area who has completed a rigorous 180 hour comprehensive program, case studies, and exam leading to certification in advanced prenatal and pediatric chiropractic theory, diagnosis and techniques.
Pregnancy Preparations
The healthier the mom is, the better opportunity that child is going to have."
Dr. Stephanie
Seeking chiropractic care while preparing for pregnancy, and especially during pregnancy, is the best thing you can do for your body and your unborn child.. Being under care can offset some of the physical and emotional traumas, as well as nutritional stresses.
In the later weeks of pregnancy, it's also important to make sure ligaments are as balanced as possible. This allows the baby to get into the optimum position so the labor and delivery will be easier. Moms-to-be will experience a comfortable setting at Bright Futures Family Chiropractic. Dr. Stephanie provides a table and special pillows that allow them to lie face down comfortably.
As a mother herself, Dr. Stephanie can offer her patients plenty of guidance on topics such as nutrition, childbirth, and how to find a local doula.
Schedule an Appointment
Discover how Dr. Stephanie can help in the areas of prenatal and pediatrics. Call (513) 792-9111 today for an appointment.
CONTACT US
---
Pregnancy Chiropractic Blue Ash, Montgomery, Sharonville OH | Bright Futures Family Chiropractic