Meet Dr. Stephanie Spiers, DC, CACCP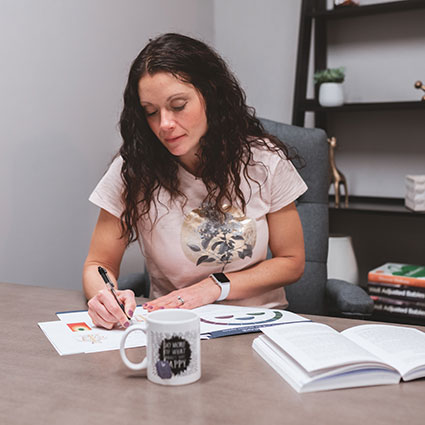 Dr. Stephanie Spiers, who helps Blue Ash families enjoy optimal health, was fortunate to have been raised in a very health conscious family with chiropractic care as a regular part of her life. When she was a teenager and in college, it became evident to her that most people didn't have the same type of upbringing as she did. She wanted to make a difference in people's lives and began working in a chiropractic office as a rehab specialist.
Although I knew how great chiropractic was for me, I witnessed the true impact that chiropractic has through my interaction with the patients."
She saw people coming in for wellness care, like she did, but was also exposed to people who had serious conditions, and debilitating pain. It was those people who opened her eyes to the immense power of the chiropractic adjustment. "Within two weeks I knew, without a doubt, that I was going to be a chiropractor."
Perceiving What Health Is
Dr. Stephanie attended Palmer Chiropractic College in Davenport, IA, graduating in early 2006. She likes being able to offer her patients a natural solution to their health care and open their eyes, minds and hearts to a different way of perceiving what health even is. She also wants them to realize the immense power that we have within ourselves to be healthy, if just given the right conditions.
EXPLORE CHIROPRACTIC CARE
Empowering Her Patients
As Dr. Stephanie became a mother herself – she has three kids – the practice has shifted toward primarily providing family wellness care. She understands how hard it is to raise kids today with influences from so many different avenues.
I offer a place where moms can come to get guidance and support, to find an alternative to what they may hear on the news or read on the internet. My goal is to empower families to make conscious health care decisions and support them on the path of their choosing."
Enjoying an Active Family Life
One could say that a family that plays together stays together. A former yoga and aerobics instructor as well as a personal trainer, Dr. Stephanie loves spending time with her family doing outdoor activities. They enjoy hiking, swimming, running and going to amusement parks together. "We want our kids to be a part of our healthy lifestyle." Dr. Stephanie also participates in The New Renaissance, a chiropractic-coaching program. The group's "Love Has No Color" world project enhances the lives of Native Americans at different reservations. Recently, Dr. Stephanie received the prestigious CACCP certification from the International Chiropractic Pediatric Association (ICPA).
We want you to enjoy levels of vitality that you thought were never possible. Call us at (513) 792-9111 today!
Email Dr. Spiers – dr.spiers@brightfuturesfamilychiro.com
---
Dr. Stephanie Spiers | (513) 792-9111