Pediatric Chiropractic at Bright Futures Family Chiropractic
Benefits for Babies and Up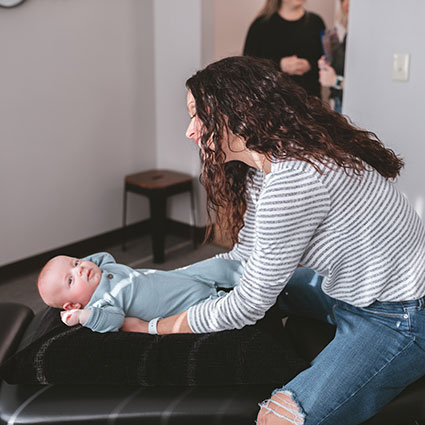 For newborns, regardless of how they were born — but especially if forceps, c-section or a vacuum were used — it's important to get them checked right away. Doing so helps to make sure the nervous system is clear and that there hasn't been any damage during the birth process. If subluxations are found, Dr. Stephanie can make an easy, gentle adjustment using the amount of pressure that you'd use to check a tomato for ripeness.
The birth process is often when the first injury to the nervous system occurs and it is so important to have children evaluated so they form healthy nerve system patterns and have the greatest potential to express abundant health and vitality. Chiropractic care has been effective in helping babies with colic, torticollis, reflux, breastfeeding difficulties, and sleep issues.
One of the most challenging experiences of early motherhood is establishing a successful breastfeeding relationship. Dr. Stephanie works with both mom and baby to ensure this relationship gets off to the right start.
Care for Growing Children
Chiropractic care is equally important for children as they grow.  Falls are a common part of being a child and, when repeated frequently can lay down dysfunctional patterns in the nervous system, actually beginning the process of early vertebral subluxation degeneration.  These early subluxations, when left untreated, can act to weaken the child's health and manifest over time as pain, symptoms, conditions, or a general lack of vitality.
Children have many physical, mental, and chemical stresses today from long hours at school, demanding sports participation, lack of sleep, improper diet, and highly scheduled lives that it's important to have their spine and nerve system checked on a regular basis to be sure it's keeping up with the child's busy life. Dr. Stephanie has advanced training in neuro-developmental challenges such as: ADHD, Sensory Processing Disorder, learning and behaviorial difficulties and Autism Spectrum Disorder.  We utilize cutting edge technology to identify exactly how the brain and central nervous system are functioning.  The results of this analysis show us where and how deep the stress is located.  This provides us the information we need to develop a precise, customized care plan that will produce optimal results for your child.
Ultimately, a parent should feel comfortable that the person who they are handing their child over to is trained, experienced and competent in adjusting children of all ages. Dr. Spiers has specialized training and experience, and is able to provide expert care to moms and babies alike.
---
Pediatric Chiropractic Blue Ash, Montgomery, Sharonville OH | (513) 792-9111